The 2019 Volkswagen Beetle: Final Edition
The Volkswagen Beetle's run is over in 2019. The 2019 Volkswagen Beetle is the final edition of this iconic compact car. Learn more about the end of an era and the exclusive final edition release by continuing on with this blog post.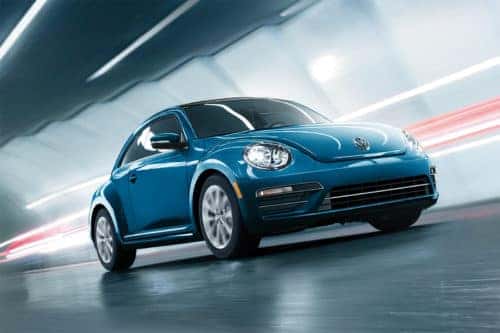 The 2019 Volkswagen Beetle Final Edition trim level is an exclusive, grand release marking the end of an era. This sendoff features unique colors, special badging, and one-of-a-kind wheels. Frequently, automakers will make their final edition vehicle a nod to previous years. Instead of doing that, Volkswagen continues the growth of the Beetle with the 2019 model. Advanced, innovative, and with a hint of nostalgia, the 2019 Volkswagen Beetle Final Edition is a must-see.
This exclusive release is available in five colors, with two colors you can't normally receive. These colors are the Safari Uni and the Stonewashed Blue. The Safari Uni shade is a glossy beige color, while the Stonewashed Blue is a light blue color. These colors are a nod to iconic Volkswagen Beetles of the past. Another nostalgic nod is the Final Edition's aluminum alloy wheels, which have chrome accents. Yet another exclusive element of the 2019 Beetle Final Edition is the "Beetle" badge on the back, which replaces the typical "Turbo" badge for this final release.
The 2019 Volkswagen Beetle Final Edition is available with either a convertible or coupe body style. Both bodies are powered by a 2.0-liter turbocharged four-cylinder engine, which is mated with a six-speed automatic transmission. This engine earns 174 horsepower.
Celebrate the Volkswagen Beetle by checking out the 2019 Beetle Final Edition at Island Volkswagen! Our new and used Volkswagen dealership is located at 1632 Hylan Boulevard in Staten Island, and we hope to see you here soon!
VW Dealership near Brooklyn | Staten Island Volkswagen Beetle