Smaller Engine, Same Amazing VW Golf
The Volkswagen Golf is back for 2019, this time with a smaller engine. However, this smaller engine does not diminish the Golf's capabilities. In this modern era, engines are getting smaller and eco-consciousness is taking over. The Golf is no exception. The previous engine under the hood was a 1.8 liter inline four engine, but the new engine is a turbocharged 1.4 liter inline four engine. This new engine offers 147 horsepower and 184-pound-feet of torque. The horsepower drops a little for the new year, but the torque remains the same.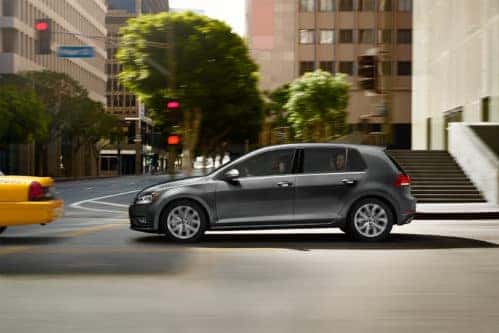 While the 2019 Volkswagen Golf offers less horsepower than previous years, it makes up for it with a new transmission. This six-speed manual transmission, or the eight-speed automatic transmission, provides responsive shifting that is smooth, exhilarating, and adds to the exciting experience behind the wheel.
Another major perk of this smaller engine is improved fuel efficiency. Help protect the environment while saving yourself some money with the 2019 Volkswagen Golf. This car achieves an EPA-estimated 32 miles per gallon (mpg) combined, which is four miles greater than last year's model.
The 2019 Volkswagen Golf also offers safety technology systems to provide peace of mind to drivers. Some of these available systems include active cruise control and lane keeping assist. Additionally, keyless access and push-button start add a touch of luxury to the 2019 Golf when you upgrade to the SE trim level.
If the 2019 Volkswagen Golf has caught your attention, keep an eye out on the inventory at Island Volkswagen. You can test drive a 2019 Volkswagen Golf soon when you visit our new and used vehicle dealership. Find Island Volkswagen at 1632 Hylan Boulevard in Staten Island.
VW Dealership near Brooklyn | Staten Island Volkswagen Golf