Set Your Family Vehicle Apart with the VW Passat
The family car does not have to be boring, and the 2018 Volkswagen Passat GT proves just that. The 2018 Passat GT is a mid-size sedan with style, power, and luxurious features that set this vehicle apart from other family-size automobiles.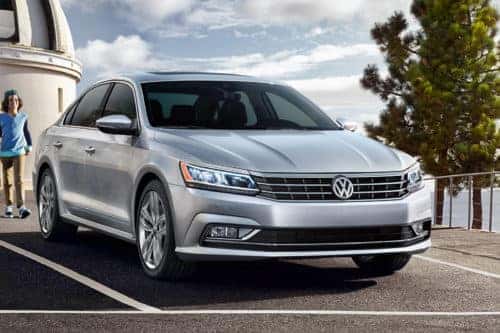 One of the most appealing features of the 2018 Volkswagen Passat GT is the sedan's engine. Under the hood of the 2018 Passat GT you can find a DOHC 24-valve, V6, iron block, and aluminum head, direct fuel injection engine, which is paired with a six-speed, dual-clutch automatic transmission with manual shifting mode. Those who love to drive will love to drive the fun and powerful 2018 Passat GT.
The 2018 Volkswagen Passat GT is a four-door sedan that seats five passengers. If you have a family of four or five, your entire family can get from here to there with comfort as passengers in the Passat GT. Not only is this mid-size sedan spacious, but the interior of the vehicle is designed with unique, stylish, and comfortable elements throughout.
The exterior of the 2018 Volkswagen Passat GT has a low stance that appears athletic and strong. The Passat GT additionally features 19-inch Tornado-design wheels. Someone with an eye for detail will also notice the GTI-inspired red trim on the exterior of the Passat around the grille, the black-painted roof, and the sharp lines throughout.
Try the 2018 Volkswagen Passat out for yourself by paying us a visit at Island Volkswagen. Our dealership can be found at 1632 Hylan Boulevard in Staten Island. You can also reach us at Island Volkswagen by calling 877-812-2722 to learn more about the Volkswagen vehicles we have available. We look forward to working with you soon!
Long Island City Volkswagen | NY 2018 VW Passat