Recommended Every 12 Months
Includes inspection of the front & rear suspension/steering components, adjustment of toe-in, camber and caster if applicable.
*Must present when service order is written. One coupon per customer. May not be combined with other offers. Not applicable to prior purchases. Not responsible for typographical, digital download, or printing errors. Other restrictions may apply. Most listed prices are starting prices and pricing may vary based on make, model, specific amounts, sizes, quantity, quality, and other variables. Please see your service advisor for complete details, exact pricing, and availability.
Volkswagen Four-Wheel Alignment
In order for your Volkswagen to run at peak performance on any road or terrain, all four of its wheels need to work together in perfect unison. But over time, things can get out of place. The best way to prevent issues is to get a Volkswagen four-wheel alignment, as even the slightest component out of place can prematurely wear down tires and even wreak havoc on your vehicle's suspension. But is your car actually a candidate for a four-wheel alignment, and what does this service entail? Here's what you need to know.
How Do I Know if My Car Needs a Four-Wheel Alignment?
If you're looking at an alignment for your Volkswagen, it'll be either a front-end alignment (also known as a 2-wheel alignment) or a full four-wheel alignment (also known as a 4-wheel alignment or all-wheel alignment). As the names suggest, a front-end alignment adjusts only the front two wheels so that they run perfectly parallel to the center of your vehicle. A four-wheel alignment does the same but for all four. By talking to an experienced mechanic, you can find out which is the best option for your car. But, generally speaking, a four-wheel alignment is for vehicles with four-wheel suspension systems.
What Does a 4-Wheel Alignment Involve?
Your mechanic will work carefully to ensure that all four wheels are adjusted to run parallel to the center of your vehicle. They will usually start by measuring the angles of the rear axle and then do the same with the front. The front wheels are typically adjusted to include the toe (the side-to-side difference between them and the rear tires), the caster (the slope of the steering axis), and the camber (the inward or outward tilt of the tires). The rear wheels will usually just have the toe and camber adjusted.
How Often Should I Be Getting a Volkswagen Four-Wheel Alignment?
While there are no specific rules when it comes to how often you get an alignment (much of it depends on your own driving habits), we recommend at least once a year. Some drivers choose to do it once a year, while others make it a rule every time they change out their tires. If you can't remember the last time you got a four-wheel alignment in Staten Island (or anywhere else, for that matter), now's the time to schedule service.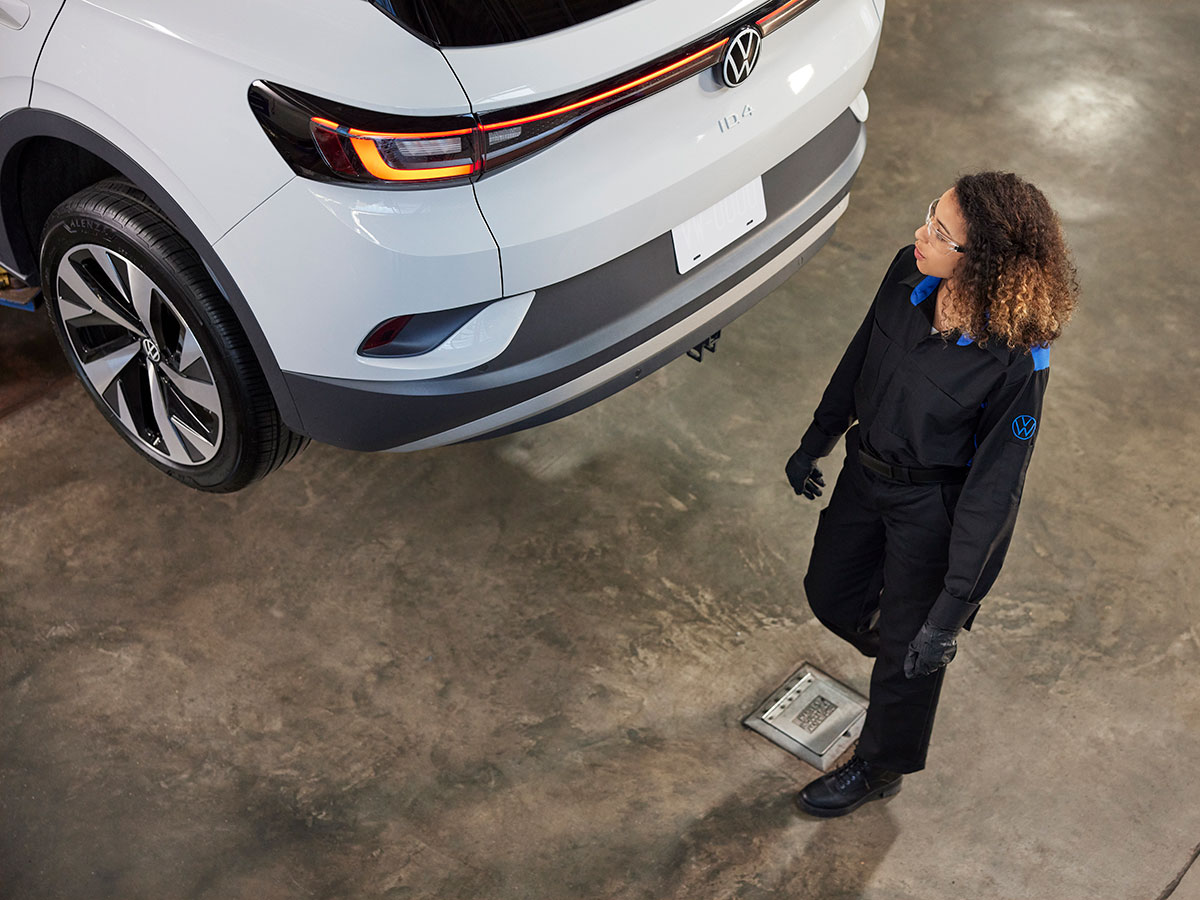 Schedule Your Four-Wheel Alignment in Staten Island
Every time you get an alignment, you're ensuring the longevity of your vehicle and your own safety as the driver. Our certified mechanic team lives at Island Volkswagen and breathes everything Volkswagen and only uses OEM parts specifically designed for your vehicle. Give us a call today to learn more about alignments or to schedule a convenient service time for your vehicle.
Complimentary Island Volkswagen Amenities
Complimentary Wi-Fi
Children's Play Area
Business Workstations
Quiet Room
Newspapers & Magazines
Vending Machines
Certified Technicians
Flat Screen TVs
Island Volkswagen, Hylan Boulevard, Staten Island, NY, USA
Island Volkswagen is located at: 1632 Hylan Blvd • Staten Island, NY 10305


Dealer Wallet Service Marketing & Fixed Ops SEO by

Search
Find Your Vehicle
Search By Keyword
Search By Filters
Saved
Saved Vehicles
SAVED VEHICLES
You don't have any saved vehicles!
Look for this link on your favorites:
Once you've saved some vehicles, you can view them here at any time.
Share
Share This
Choose How To Share: