New 2020 Volkswagen Jetta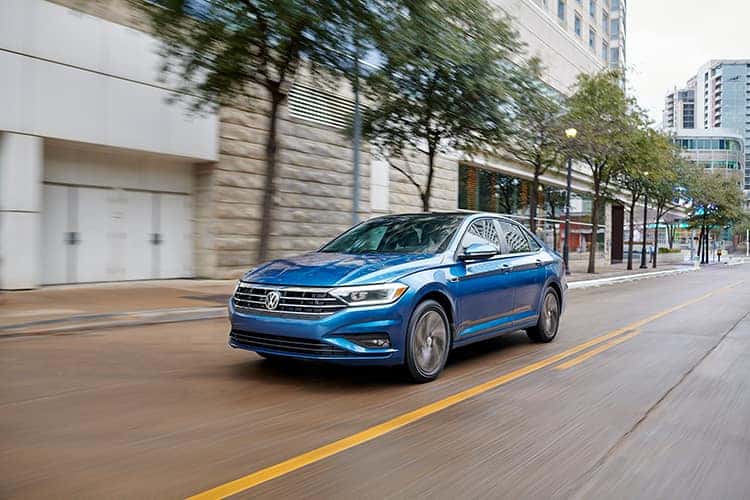 The Jetta has been the mainstay of Volkswagen for over a decade and for good reason. Featuring best-in-class features, overwhelming reliability and more than a hint of style, the 2020 Volkswagen Jetta is a sedan that is hard to pass up.
The 2020 Jetta has been redesigned, keep all of the best-loved features of its predecessors while improving others even further. The Jetta manages to be sporty and sleek without wasting time on flashy aspects. The result is a mature refined sedan that is simultaneously fun and serious.
The Jetta features the best in German engineering, offering a 1.4-liter 184 lb-ft of torque turbocharged engine standard across all trims and including other available performance features such as cross differential XDS and 17″ alloy wheels. The Jetta offers the best right out of the gate.
In addition to its ample performance, the 2020 Jetta also features the latest in safety technology, including an intelligent crash response system that deploys the airbags, stops the fuel and unlocks the door in the event of an accident. An additional post-collision braking system prevents the vehicle from having additional collisions following an accident. When combined with other available safety options, such as adaptive cruise control, blind-spot monitoring, lane assist and rear cross-traffic alerts, the Jetta is always looking out for you.
All of the Jetta's tech isn't relegated to safety, however. The state of the art Volkswagen digital cockpit provides high-resolution information about your drive, while an 8″ touchscreen provides access to navigation and additional functions. The 2020 Jetta also offers BeatsAudio, the first Volkswagen ever to do so, as part of its entertainment suite.
Subtle and sporty on the outside, packed with features and amenities on the inside, the 2020 Volkswagen Jetta is the result of years of precision-tuning and experience. If you are interested in viewing a Jetta for yourself, we invite you to visit Island VW's showroom at 1632 Hylan Blvd, in Staten Island. We appreciate the chance to serve you.