Bye Bye, Beetle
It's confirmed, 2019 will be the final year of the Volkswagen Beetle. Volkswagen will end production of their signature vehicle after the 2019 model hits the road. The Volkswagen Beetle first appeared in 1949, marking 70 years of the Beetle. However, it's officially time to say, "Bye Bye Beetle."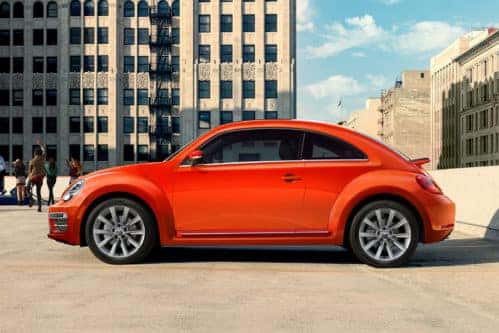 The 2019 Volkswagen Beetle will go out with a bang. The vehicle will have special edition models for its final release. The Beetle Final Edition coupe and convertible will be available in two unique colors. The beige and light blue colors are a nod to the 2003 vehicle, which marked the end of the first-generation Beetle. These colors were also found on the 2016 Beetle Denim, the 1970 Jeans Bug, and the 2011 New Beetle. This Final Edition Beetle will also have 17-inch aluminum alloy wheels with a 15 spoke pattern, or 18-inch alloy disc wheels with a white trim, paying homage to the original-generation Beetles.
"The loss of the Beetle after three generations, over nearly seven decades, will evoke a host of emotions from the Beetle's many devoted fans," said the president and CEO of Volkswagen Group of American, Inc., Hinrich J. Woebcken. "As we move to being a full-line, family-focused automaker in the U.S. and ramp up our electrification strategy with the MEB platform, there are no immediate plans to replace it," he continued in the Volkswagen newsroom press release.
Volkswagen plans several events in addition to the release of the final edition of the Beetle. To announce these events and share moments online, the automaker will use the hashtag "#byebyeBeetle."
"The Beetle is more than a car," Woebcken said, "it's what made Volkswagen an integral part of American culture."
Honor the final year of the Volkswagen Beetle by visiting us at Island Volkswagen. Our new and pre-owned Volkswagen dealership is located at 1632 Hylan Blvd in Staten Island.
VW Dealership near Brooklyn | Staten Island 2019 Beetle